Invisalign Treatment Baytown, TX
If you are looking to straighten your smile but you hate the idea of wearing traditional metal braces, then you are in luck. Here at ProDental in Baytown,TX, we understand that as an adult or late teen it isn't really ideal to sport a mouth full of braces. Despite all the benefits of having a straighter smile, we realize that it's unlikely that someone who is in college or in the working world will want to wear traditional braces. Fortunately, you can fix dental malocclusions and get a straighter smile without other people noticing when you choose Invisalign.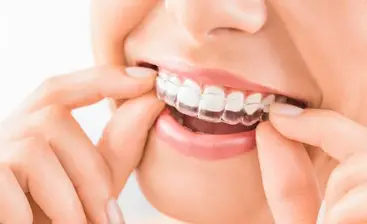 The Invisalign Difference
Traditional braces do a good job of correcting orthodontic issues, but they're not the most attractive option. They use a system of wires and brackets to improve alignment. Every four to six weeks, you must return to your Baytown dentist or orthodontist's office to have the wires tightened.
The Invisalign system doesn't use wires and brackets, but relies on a series of removable, clear plastic aligner trays to gradually shift teeth. Although you'll visit your dentist periodically, there's nothing to adjust with Invisalign. Aligners are custom made to fit your teeth exactly and movement of your teeth is accomplished by wearing a new set of aligner trays every two weeks.
Through Invisalign's advanced computer technology we can determine which teeth need to move in order to achieve the proper smile. From there, each aligner is made to promote certain tooth movements. Invisalign treatment can address minor to more severe tooth movements, but can't handle issues that require complicated or complex jaw or tooth movements.
You'll wear these aligners for about 22 hours out of the day, only removing them to eat, drink, brush and floss.
Advantages of Invisalign Over Traditional Braces
1. No more metal mouth
One of the things many people dislike about metal braces is their appearance. Since Invisalign aligners are made of clear polyurethane resin, it won't be obvious that you're wearing braces.
2. Improved comfort
Loose wires can poke your gums and cheeks, causing irritation and pain. When you wear Invisalign aligners, you won't have to worry about pain or irritation from wires.
3. A simple process
Your Baytown dentist uses impressions and photographs to create a computerized image of your mouth, which he consults to design your Invisalign aligners. Thanks to the 3-D image, he can create trays that are tailored to your specific orthodontic issue.
4. Correction of bite problems
Braces improve your appearance, but also correct bite problems. Invisalign treatment is appropriate for the correction of mild to moderate orthodontic issues, including open bites, crossbites, underbites and overbites. It can also be used to correct overcrowding and undercrowding issues.
5. Convenience and ease of use
You'll normally wear your Invisalign aligner trays 20 hours a day and only take them out to eat. Unlike traditional braces, you can remove your Invisalign trays if you play sports and have a practice or game, or if you want to go brace-less for a special event. Since you'll remove your trays to eat, you won't have to worry about the food restrictions traditional brace wearers face.


Looking to straighten your smile discreetly? Take advantage of the comfort and aesthetics of Invisalign clear aligners from ProDental! Call our Baytown, TX dental office today at

(281) 838-8888

to schedule a consultation.